News
---
11.2.06 - For the next time an hourlong slot on the CW's slate opens up, a setside source tells TVGuide.com that Dawson's Creek creator Kevin Williamson's steamy new serial, Hidden Palms, is laying in wait, champing at the bit to hit prime-time sooner than its originally expected January 2007 debut.

10.25.06 - Sasha Alexander (Gretchen Witter) will be joining the cast of The Nine on November 22nd as Nick's ex-wife. She brings trouble with her... she's working a case that brings Nick into danger and may rekindle old sparks between them.

10.24.06 - People Online: Art Lover A sunny Michelle Williams (in Behnaz Sarafpour) steps out without her constant companions – fiancé Heath Ledger and daughter Matilda (who turns 1 on Oct. 28) – to attend New York City's Whitney Museum gala celebrating the work of Pablo Picasso on Monday. The actress also cohosted an afterparty with attendees including Ivanka Trump, Jimmy Fallon and Saturday Night Live's Andy Samberg.

10.24.06 - TVGuide.com: Tom Cruise and Katie Holmes will finally tie the knot in Italy on November 18th, Cruise's representative confirmed to the Associated Press on Tuesday.

10.19.06 - People Online: Show Us the Bling Katie Holmes, who is gearing up for her wedding with Tom Cruise, hits Beverly Hills jeweler David Orgell on Wednesday.

10.18.06 - People Online: Slim Shady Katie Holmes, who made a week's worth of stylish appearances in Paris, continues to show off her svelte post-pregnancy body as she heads to a Hollywood studio on Monday.

10.16.06 - People Online: Having a Ball It's a happy reunion for Tom Cruise and Katie Holmes at — where else? — aughter Isabella's soccer game Saturday in Los Angeles. Holmes is back on home turf after taking a girls' only Parisian jaunt with Victoria Beckham.


| | |
| --- | --- |
| | Tony Barson/WireImage.com |
10.9.06 - E!Online Fashion Police: 2 Become 1: Victoria Beckham and Katie Holmes seem very elegant. But what's with these pals' matchy-matchy outfits during Paris Fashion Week? Way too much thought went into their ebony and ivory ensembles, courtesy of Chanel. Ladies, how about you give the stylists a day off and try dressing yourselves? Just a thought. -->

10.6.06 - Go Fug Yourself: Fug Holmes-Fug

10.6.06 - People Online: Shady Ladies Beckham consults with Holmes at Friday's Chanel show, where they took in the designer's trademark jackets and barely-there skirts. Also in attendance: musicians Lenny Kravitz and Kanye West.

10.6.06 - People Online: Girls' Day Out After hooking up the day before, Katie Holmes and Victoria Beckham continue their chic tour of Paris as they leave the Ritz Hotel to take in the French runway shows on Friday.

10.4.06 - People Online: Mom's Day Out A svelte Katie Holmes leaves baby Suri and fiancé Tom Cruise at home for a lunch date with a pal at Hollywood eatery Orso on Tuesday.

10.2.06 - People Online: Field Day Tom Cruise and Katie Holmes keep their eyes on the ball at daughter Isabella's soccer game Saturday in Los Angeles. The new parents had a busy day on the sidelines: Afterwards, son Connor hit the field for a football game.

9.8.06 - Two 6th season alums are playing a a couple in a CBS midseason comedy. In Rules of Engagement, Bianca Kajlich and Oliver Hudson play a young newly-engaged couple.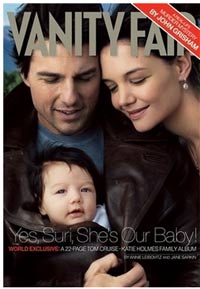 9.7.06 - She's real! And she's on the cover of Vanity Fair.

9.5.06 - TVGuide.com: Tom Kapinos has sold a pilot to Showtime called Californication, which is about a sex- and drug-addicted man trying to raise a kid on his own.

8.28.06 - TVGuide.com: Don't miss this great picture of Meredith Monroe at the TV Guide Emmys party!

8.25.06 - People Online: War of the Words With fiancée Katie Holmes by his side in Santa Monica on Thursday, Tom Cruise shows he's still a team player despite his split with Paramount Pictures. While Cruise's camp fired back in the latest round of the breakup heard around the world, the couple offered smiles as they made a shady exit.

8.24.06 - Busy Philipps will appear in at least four episodes of ER this season as a devout-Christian medical intern.

8.21.06 - People Online: Dinner a Deux With 4-month-old Suri still tucked away at home, Tom Cruise and fiancée Katie Holmes make it a date night at Mastro's Steakhouse in Beverly Hills recently.

8.9.06 - TVGuide.com: Sources tell the New York Post that Vanity Fair has landed the first photo shoot with Tom Cruise and Katie Holmes' conspicuously camera-shy daughter, to be snapped by Annie Leibovitz and published in the fall.

7.19.06 - People Online: Back to Basics After a long summer vacation at fiancé Tom Cruise's estate in Telluride, Katie Holmes gets back to her usual old haunts – namely Barneys – in Los Angeles on Monday.

7.18.06 - People Online: How Hot? Michelle Williams and Heath Ledger join Ellen DeGeneres at the Chateau Marmont on Saturday, where the talk-show host (and girlfriend Portia DeRossi) threw a cocktail party to help Ugandan villages (through FXB and Heifer International). "It feels like Africa right now," DeGeneres said of the 100-degree weather. "So it's like we're there."

7.17.06 - People Online: Nature Lover With fiancé Tom Cruise in Chicago honoring Steven Spielberg on Saturday, Katie Holmes takes some quiet time for herself in Telluride, Colo., where the family – including 3-month-old daughter Suri – has been vacationing.

7.12.06 - Beginning August 14th, The N will debut Dawson's Creek in a 12-episode back-to-back marathon beginning at 6am. The N acquired all six seasons, or 128 episodes, of the show and it will be striped weeknights starting August 16th at 7pm and again at 10pm.

6.30.06 - TVGuide.com: Thanks to some fancy licensing-rights footwork by bossman Garth Ancier, WB will end its 11-year run on Sunday, Sept. 17, by rebroadcasting the pilots of signature series Buffy the Vampire Slayer, Felicity, Angel and Dawson's Creek, Variety reports. The net's five-hour farewell package will also include promos from years gone by and a tribute reel recounting the famous faces who have graced its broadcast signal. Says Ancier, "This will be an homage to our shows." The schedule is: 5pm ET - Felicity, 6pm ET - Angel, 7pm ET - Buffy (2 hours), 9pm ET - Dawson's Creek.

6.23.06 - Brittany Daniel (Eve) has been cast in the lead role in CW's Girlfriend spin-off, The Game.

6.13.06 - Oliver Hudson (Eddie) married actress Erinn Bartlett (best known to me as the paralegal/prostitute on How I Met Your Mother) in a beachside ceremony in Mexico last Friday.

5.25.06 - People Online: Take Them Out A hands-on Tom Cruise and Katie Holmes make yet another appearance at one of Cruise's son Connor's Little League games in Beverly Hills on Wednesday. One-month-old daughter Suri stayed home.

5.24.06 - From TVGuide.com: Per the Hollywood Reporter, "Brokeback Mountain" costars and real-life loves Heath Ledger and Michelle Williams have joined the cast of the Bob Dylan movie "I'm Not There," Ledger being one of seven actors representing different aspects of the singer's life and music. Williams will play model Coco Rivington....

5.8.06 - From TVGuide.com: According to the London Daily Mail, Tom Cruise got Katie Holmes to sign a prenuptial agreement that establishes an unconditional $19 million trust fund for Suri and provides a cool $33.5 mil for Kate herself should the couple's long-discussed/yet-to-happen marriage go south. In related snark, check out today's New York Daily News for an interesting analysis of TomKat's sudden and mysterious "height equality" at M:i:III's L.A. premiere.

5.4.06 - From TVGuide.com: Michelle Williams, Benicio Del Toro and Catherine O'Hara are on board as voices for Spike Joneze's adaptation of Maurice Sendak's "Where the Wild Things Are."

4.20.06 - From TVGuide.com: The N has announced a September 1st start date for its run of Dawson's Creek repeats beginning with the pilot episode.

4.19.06 - From TVGuide.com: Katie Holmes gave birth on Tuesday to her and Tom Cruise's first child together, a baby girl whom they named Suri, which means "princess" (in Hebrew) or "red rose" (in Persian). "Both mother and daughter are doing well," says Cruise's publicist.


| | |
| --- | --- |
| | Stephane L'hostis/Getty Images |
4.19.06 - E!Online Fashion Police: Baby Blues There has been no word on what new mom Katie Holmes will wear to care for baby Suri, but on a recent trip to Australia, the then pregnant star chose a flattering navy blue empire-waist dress that played up her ample cleavage, while a pleated hem balanced out her burgeoning belly. In fact, there was barely a fashion misstep throughout this near picture-perfect pregnancy. --> 4.18.06 - From TVGuide.com: Woody Allen has abruptly scrapped his plans to shoot a movie in Paris this summer, Variety reports. David Krumholtz and Michelle Williams were to star in the feature. Allen instead will direct his attention to helming a third consecutive pic (following Match Point and the forthcoming Scoop) in London.

4.18.06 - People Online: Party People Michelle Williams and Heath Ledger show their support for pal Mark Ruffalo (right) at the premiere party for Ruffalo's Broadway show Awake and Sing on Monday.

4.17.06 - People Online: Special Delivery Katie Holmes has an early visit from the stork — on her T-shirt — while shopping at Maxfield's in West Hollywood on Saturday. Retail Cravings That same day, Holmes — who's due any time now — also stops by upscale department store Barneys, where she browsed the racks and hit the shoe department.

4.12.06 - From TVGuide.com: Michelle Williams has been cast in Woody Allen's next film which is set in Paris.

4.6.06 - From TVGuide.com: Dotson Rader, who interviewed expectant parents Tom Cruise and Katie Holmes for Parade, reveals that "Holmes... seemed dazed, passive and vacant" during the sit-down. "She never stopped smiling... [even] as Cruise described how his father beat him." I'd say the New York Post sums it up best: "Creepy."


4.4.06 - From TVGuide.com: Tom Cruise told a German tabloid magazine that he absolutely will tie the knot with Katie Holmes... after the birth of their baby... and after the May 5 release of Mission: Impossible III. "Then, in the summer, we want to get married," he is quoted as saying. "I won't let this woman get away."

3.15.06 - From TVGuide.com: Did TomKat dupe all of us by tying the knot months ago, back when their romance was new, fresh and not-so-overpublicized? The National Enquirer is reporting that a Scientology chaplain married Tom Cruise and Katie Holmes last July in a ceremony held during a Caribbean cruise on one of the church's ships. The insta-couple supposedly traded rings bedazzled with Scientology symbols as the likes of John Travolta and Kirstie Alley looked on. A rep for the duo insists to the New York Daily News that "they have not yet wed."

3.6.06 - Kerr Smith has been cast in the new FOX show American Crime.

3.2.06 - Dawson's Creek will begin airing in syndication on The N as of Friday, September 1.

3.2.06 - TVGuide.com: Michelle Williams' Oscar-nominated turn in Brokeback Mountain has earned her a failing grade from the Christian high school she attended. "We don't want to have anything to do with her in relation to that movie. Michelle doesn't represent the values of this institution," the Santa Fe Christian School headmaster tells the San Diego Union Tribune. "I hope we offered her something in life, but she made the kinds of choices of which we wouldn't approve. Brokeback Mountain promotes a lifestyle we don't promote. It's not the word of God."

2.24.06 - James Van Der Beek has joined the CBS pilot Sex, Power, Love & Politics.

2.25.06 - Tom Cruise and his pregnant fiancé, Katie Holmes, are refuting talk that they have split up. Characterizing a Life & Style story as "malicious fallacies" and "100 percent false," a rep for the duo says in a statement, "[They] are still moving forward with their wedding plans, as well as planning for the arrival of their child." The celeb weekly's woes may not end there, either. Cruise's lawyer tells Star "I will be sitting down with Tom to discuss... whether we bring a lawsuit. If it was up to me, I would sue."

2.13.06 - Kevin Williamson is developing a new untitled drama for the new CW network starring Gail O'Grady. It's about a young teen and his family who move to a new development in Palm Springs, according to the Hollywood Reporter.
| | |
| --- | --- |
| | Jeffrey Mayer/WireImage.com |
2.1.06 - E!Online Fashion Police: His 'n' Hers Could there be a cuter couple than Heath Ledger and Michelle Williams? He's dark, brooding and gorgeous in an all-black tux. She's radiant in a button-front, belted white dress with delicate flower detail and not an inch of baby fat on her. We almost can't stand it, but why begrudge these crazy kids? -->

2.1.06 - The Hollywood Reporter reports that Joshua Jackson has been cast in a new CBS untitled legal drama about a group of associates in a D.C. law firm who battle various ethical and moral issues along with legal issues. Jackson will play one of the associates, and his character's first big case is working with a death row inmate.

1.31.06 - Michelle Williams was nominated for an Oscar for Outstanding Performance by an Actress in a Supporting Role for her part in "Brokeback Mountain!" The 78th Academy Awards will be presented on Sunday, March 5, 2006, at the Kodak Theatre, and broadcast live on ABC.

1.24.06 - A steamy love scene between Katie Holmes and Aaron Eckhart was mysteriously excised from the version of "Thank You for Smoking" that was screened at the Sundance Film Festival, fueling buzz that Tom Cruise may have wielded his considerable clout to snuff the footage of his prepregnancy fiancé According to the New York Post, a studio rep says, "We don't know what happened, but we're looking into it," then insists the film "will absolutely be released with that scene."

1.17.06 - Click here for a picture of Michelle Williams and Heath Ledger at the 2006 Golden Globe Awards, and click here for another pictures of them at the NBC, Universal Pictures and Focus Features Post Party.

Jensen Ackles by
Frank Ockenfels/WB
1.10.06 - TV Guide: Jensen Ackles Eyes a Super Second Half
by Matt Webb Mitovich
When last we tuned in to WB's freshman frightfest, Supernatural, bogeyman-busting brothers Dean and Sam Winchester had fended off the insanity of an old, shuttered asylum only to come home to a phone call from their perpetually MIA father. The action picks up right from that instant with this week's new episode (airing tonight at 9 pm/ET). Jensen Ackles, who plays Dean, shared with TVGuide.com a preview.
TVGuide.com: Were you happy when Supernatural got picked up for a full season so early on?
Jensen Ackles: Yeah, it's always a crapshoot with the whole television thing in general, so the fact that we had a nice little buzz and had the powers-that-be pushing for us gave us the confidence we needed to move ahead and put us in the frame of mind we needed to be in for the remainder of the season.
TVGuide.com: Especially since there is so much mythology to delve into. You must have been like, "This could be a really awesome show if...."
Ackles: If we get the right support and it's done right. And so far, I think everybody has made every effort they can to really get this show off and running the way we all want it to be.
TVGuide.com: I have to wonder, does it get lonely being just you and Jared [Padalecki, Sam] in every damn episode? Do you corner the writers and go, "Can't we get a bartender buddy or something?"
Ackles: [Laughs] Oh, trust me. When [Warner Bros. Television president] Peter Roth and I had dinner about a month ago, he said, "So, the show's doing really, really good, everybody's really happy.... How do you think we can make the show great?" "Add. More. Characters." is the first thing I said. [Laughs] But that's what we signed on for — we knew it would be just Jared and I, and that it would be a very demanding schedule, and it definitely has been. It hasn't let up. I think I've had one day off since July. The cool thing about it is that Jared and I really get to work hard and, in the same breath, we get to meet and see and work with new people each week. It's a new town, a whole new story, new people, so in a sense that's something kinda cool that we have that a lot of shows don't.
TVGuide.com: Do you guys never film during the day, or does the show just do a great job of simulating darkness and murkiness?
Ackles: Everything that you see inside is generally done during the day and then, of course, our night shoots are either cheated a bit or we wait until the sun drops. But we shoot in Vancouver, where the sun goes down quite early. It will be 4:40 in the afternoon and it's dark already.
TVGuide.com: I thought my ears spied Canadian accents on some of the guest stars. I was watching "Asylum" and that blonde girl.....
Ackles: What, did she throw in an aboot?
TVGuide.com: Something like that. I was like, "A-ha, I see we're shooting in Canada."
Ackles: It's funny, I've actually had to grab the script supervisor — who is Canadian, so it doesn't register to her the way it does to me — and tell her, "You've got to watch these accents, they're starting to kick up," and then she'll go tell the actor. There are only a few of us who can really catch it, and if we're not around....
TVGuide.com: What bogeymen are left to tackle this season? Can you tease anything about what's coming up?
Ackles: I know that there's some good stuff coming up with the father....
TVGuide.com: At the end of "Asylum," he's on the other end of the telephone.
Ackles: Exactly, so that's going to start becoming much more relevant. There's such a pool of these [bogeyman] stories that Erik Kripke, the writer and creator, has come up with....
TVGuide.com: And you don't want to burn through them all in Season 1.
Ackles: And we're not, either. Erik is just this mad genius in L.A. who kind of locks himself in the writers' room and comes up with all of this awesome stuff. I have every confidence in him in the world.
TVGuide.com: What did you and Jared get for a Christmas bonus? Your own '67 Chevy Impalas?
Ackles: [Laughs] That would have been nice! I think that's maybe the fifth season, if we get there.
TVGuide.com: You got some wimpy Supernatural wall calendar, didn't you?
Ackles: We all got jackets and stuff... and we also got a couple of days off earlier than we were supposed to.
TVGuide.com: Let's talk about your three previous extended runs on television: Dark Angel, Smallville and Dawson's Creek.
Ackles: I kind of felt like a bit of a pinch hitter on those shows. They were already established, and I was just kind of coming in to do whatever they needed to be done.
TVGuide.com: It was almost a "prolonged screen test" until the day got your own show, wasn't it?
Ackles: Yeah, exactly. [Laughs] They were just kind of "using and abusing" me to make sure I could handle the pressure and the whole situation. But it was good. After Dark Angel, [Fox] made me the lead of a series called Still Life. We shot the pilot, they picked it up for seven episodes, and then they decided to shelve it. There was a big change in command, and [the new entertainment president] cleaned the slate of anything that was pending, so we got lost in the shuffle.
TVGuide.com: They should put the seven episodes out on DVD, cash in on your Supernatural buzz.
Ackles: Hey, that'd be the smart thing to do. But who knows what the suits are thinking these days?
TVGuide.com: Getting back to Supernatural, do you ever worry that Dean is too quippy? That maybe his attitude undercuts the tension?
Ackles: That's a very delicate balance you've got to find, because at the end of the day this is a horror show, and you really have to make it believable. To do that, you have to really be scared and you have to really react to these things. The only difference between Dean and anybody else reacting to it is that this is what he's been living, breathing, eating and sleeping for most of his life.
TVGuide.com: Plus, the humor is probably a sort of coping mechanism.
Ackles: He's definitely got the cocky facade covering up a lot of what's going on underneath. That's a cool thing about him — he's a bit of an onion, and in each episode you start peeling layers and layers off. Sometimes I really have to think, "OK, I'd like to make this nonchalant and funny, but I don't want to miss the point that this is a very serous issue I'm dealing with." It's a delicate balance.
TVGuide.com: Have you ever been to the funky official Supernatural website?
Ackles: Yeah, that's cool as hell. I pop around in the trunk, the glove compartment....
TVGuide.com: I was just there for the first time and it's crazy!
Ackles: It is crazy. In fact, I do these things every now and then where I'll go and record a voice-over or an outgoing [phone] message, or a message to my dad, that they'll play on the webpage. They're really going to make that an integral part of the show. I know they've set up an actual phone number and an e-mail address that are used on the show, and people are calling and leaving messages and e-mails. People at Warner Bros. are going through them. It's been a really cool response.
TVGuide.com: Is your girlfriend too scared to watch the show?
Ackles: I'm currently a single guy, so the only women in my life are my sister and my mom, and yes, they definitely watch the show and yes, they definitely get scared!
1.5.06 - Michelle Williams was nominated for a Screen Actors Guild Award for Outstanding Performance by a Female Actor in a Supporting Role for her role in "Brokeback Mountain." The 12th Annual Screen Actors Guild Awards ceremony will be on January 29th, 2006, and will air live on both TNT and TBS.
| | |
| --- | --- |
| | Arnaldo Magnani/Getty Images |
12.19.05 - E!Online Fashion Police: Great Expectations It just wouldn't be Christmas without this heartwarming look at the winners of the 2005 Fastest Romance Contest. Just seven months after meeting in Tom Cruise's office, the proud almost-parents show off their matching smiles, their coordinated, trendy brown-and-navy Armani duds and her growing bump, as they pose outside a New York hotel. Ever wonder if Tom simply superglued Katie Holmes' hand to his? That would explain a lot. -->

Katie Holmes by
James Devaney/WireImage.com
12.16.05 - TV Guide Caught in the Act: Cruisin' through town Katie Holmes wore her special "Notice me! I'm pregnant!" coat for a random outing in New York City Thursday. And photographers obliged. -->

12.13.05 - Congratulations to Michelle Williams who was nominated for a Golden Globe Award for Best Performance by an Actress in a Supporting Role in a Motion Picture for her role in Brokeback Mountain. The Golden Globe Awards live telecast will air on NBC at 8pm ET on January 16th.
| | |
| --- | --- |
| | Jim Spellman/WireImage.com |
12.7.05 - E!Online: After Birth Michelle Williams officially joins the ranks of Annoying Women Who Look Incredible Weeks After Giving Birth. In an innocent Oscar de la Renta beige satin frock with a black ribbon belt, black ankle straps and clutch, Michelle is one hot mama at the Brokeback Mountain premiere in New York. And that naughty black-lace bodice is just the thing to show off her, um, maternal instincts. -->

12.5.05 - Kerr Smith has been added to the cast of NBC's freshman series, E-Ring. He has already guest-starred in three episodes, and he will make his first appearance as a regular cast member after E-Ring returns from its holiday rerun cycle. Smith will continue his role as Bobby Wilkerson, a member of the Pentagon's Special Ops force and a friend of J.T. Tisnewski (series star Benjamin Bratt).

11.11.05 - Don't miss Joshua Jackson in the new ABC Family movie, "Shadows in the Sun," premiering on Sunday, November 13th at 7pm ET.

11.3.05 - Zap2It.com: 'Dawson's Creek' Creator Paddles to UPN Kevin Williamson, who created "Dawson's Creek" for The WB, is bringing his latest project about angsty teenagers to the Frog's rival, UPN. Williamson has received a pilot commitment from UPN for a drama set in the desert resort town of Palm Springs. The show will revolve around a troubled teenager who moves into a gated community in town and finds that its residents harbor some skeletons of their own, the showbiz trade papers report. More...

11.3.05 - TV Guide Online: Kevin Williamson, the creator of WB's Dawson's Creek as well as the Scream movie franchise, is penning a UPN pilot about a troubled teen whose family relocates to a secret-filled Palm Springs housing development.

11.2.05 - Extra reports that Michelle Williams and fiance&eacut; Heath Ledger have welcomed their first child, a daughter named Matilda.

10.14.05 - People magazine reports that Katie Holmes has pulled out of "Shame On You," a big-screen biopic in which she would have starred opposite Dennis Quaid as the wife of country-music legend Spade Cooley.

10.13.05 - Zap2It.com: Old-Fashioned Holmes Got Pregnant That Way - "It's all about in-vitro, baby!" exulted Uchenna Agu, wannabe father and winner of the seventh season of "The Amazing Race." In the case of Tom Cruise and Katie Holmes' baby, however, it's all about the classic method of insemination, according to published reports. A split second after the Hollywood couple announced their impending parenthood, half-serious jokes began about turkey basters and alien probes. More...

10.10.05 - Zap2It.com: Really Pregnant Holmes Dumps Publicist The old argument that there's no such thing as being "a little bit pregnant" seems to hold true with Katie Holmes. A few days after Tom Cruise's camp announced that fiancee Holmes is pregnant with his child, the actress was spotted in a park with a protruding belly more in keeping with a woman in her second trimester, not the first, as has been previously speculated, according to published reports. More...

10.5.05 - People reports that Katie Holmes is pregnant. "Tom and Katie are very excited, and the entire family is very excited," Lee Anne Devette, Tom Cruise's publicist and sister confirmed to the magazine.

7.21.05 - Zap2It.com: UPN's 'Love, Inc.' Gets Busy ... Phillips - At 5:20 on Thursday (July 21) afternoon, Busy Phillips received an important phone call. "I was getting a manicure and a pedicure and I said, 'Guys, I have to cut this short,'" Phillips laughs. It's less than three hours later and Phillips is chatting with reporters at a Television Critics Association press tour network party as the newest star of UPN's fall comedy "Love, Inc." She's replacing Shannen Doherty, who was recast almost immediately after the show was picked up this spring. More....

6.20.05 - Although Katie Holmes's new movie, "Batman Begins," did well at the box office this past weekend, raking in $46.9 million, the New York Post reports that Holmes will not be cast in any possible upcoming Batman sequel: "[Batman's] next romantic interest will be a much stronger actress," sources say.

6.17.05 - Katie Holmes and Tom Cruise are engaged. At a news conference in Paris Friday morning, Cruise confirmed that he popped the question just hours earlier, high atop the Eiffel Tower. "Today is a magnificent day for me," he said. "I'm engaged to a magnificent woman." No wedding date has been set: "We haven't discussed that," Cruise added. "One step at a time."

6.13.05 - CNN: Katie Holmes embracing Scientology Katie Holmes says she's converting to the Church of Scientology, embracing the religion of her boyfriend, Tom Cruise. More...

6.9.05 - According the The New York Post, Katie Holmes has dropped her agent and manager in favor of Tom Cruise's representatives.

Katie Holmes and Tom Cruise
by Lester Cohen/WireImage.com
6.7.05 - TV Guide Caught in the Act: Overexposure Begins: Hey, if you've been stranded on Lost island for the past month, you may not know that Katie Holmes and Tom Cruise are in looooove! What movies are they promoting again? -->

6.4.05 - Zap2It.com: Holmes Gets Tough for 'Batman,' Mushy About Cruise - Katie Holmes, best known as Joey Potter of "Dawson's Creek" fame, maintains her girl-next-door appeal in "Batman Begins" while exhibiting a more mature and headstrong confidence. In the latest Dark Knight installment, Holmes plays Rachel Dawes, a character not appearing in the comics, but created specifically for the film. She is Bruce Wayne's (Christian Bale) childhood friend who grows up to become his love interest and an idealistic Assistant District Attorney bent on wiping out corruption. More...

4.28.05 - Apparently, Katie Holmes, 26, is currently dating Tom Cruise, 42. It has been confirmed by publicists for both actors, and the pair were photographed this week together in Rome, where Cruise is about to receive a lifetime achievement award at the David di Donatello Awards.

4.22.05 - People magazine reports that Michelle Williams and Aussie actor Heath Ledger are expecting a baby together. Surprise!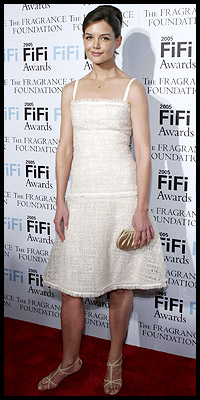 4.14.05 - E!online: Behind the Curve - Cutie-pie Katie Holmes looks adorable in anything. Except the matronly, stiff white wool fit 'n' flared frock she wore to the Fifi Awards in New York. Guess she doesn't know about the three Bs: "Never wear a dress that makes your Butt look Bigger than your Boobs." Also, no one--spring lambs excepted--looks good in white wool.
3.3.05 - Katie Holmes and Chris Klein have called off their engagement, but a rep for Holmes says that they are "remaining good friends."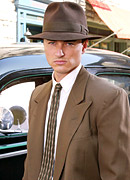 11.18.04 - TV Guide Online: Dawson's Stud Leaving Charmed?
by Daniel R. Coleridge
Dawson's Creek graduate Kerr Smith, 32, is a bona fide hit on Charmed (Sundays, 8 pm/PT on WB). In his recurring role as Agent Kyle Brody, he's won over the witchfest's devoted fans by splitting his time between probing occult mysteries and cuddling Rose McGowan's Paige Halliwell. Will this temp go perm and stay long-term? A setside source tells TV Guide Online that Smith's expected to say buh-bye in early 2005. Let's see what the studlet himself has to say....
TV Guide Online: Kerr, you've signed up for 10 episodes of Charmed. [The sixth one airs this Sunday.] Any chance you'll stay as a series regular?
Kerr Smith: They've actually asked me. It's something I would entertain. I love the group and it's a good show. On the other hand, it'd take me out of pilot season; that is usually January through April. It's a very difficult decision because you want to try and get your own show, but then, working on a show as good as theirs is also a really good deal.
TVGO: I don't hear you saying no for sure.
Smith: I guess it's still up in the air. It's a tough decision. I'd love to stay, but you've also got to move forward into the black unknown. Staying in the nice cushy job is not taking a chance.
TVGO: How's life behind the scenes? We've all heard tales of backstage drama.
Smith: You gotta understand, I come from the most amazing crew family on Dawson's Creek. I didn't think I'd ever have that again. [My TV sister] Meredith Monroe and I are still great friends. After getting to know everybody on Charmed, it was unbelievable. They welcomed me right into this friendly atmosphere with great working conditions. It's the kind of job you really don't want to leave — which is why, I'm sure, they've been there for seven years.
TVGO: So Kyle's a federal agent who's into the supernatural. Sounds familiar...
Smith: He's Fox Mulder but he's not as somber. He's more charming. But he is a mysterious FBI agent who's into the supernatural. (Chuckles)
TVGO: At least your sister wasn't abducted by aliens, right?
Smith: No — though you never know with this show.
TVGO: You're romancing Rose McGowan on Charmed. Her ex, Marilyn Manson, must be a tough act to follow.
Smith: (Snickers) A tough one, huh? Let's just keep it at a different act to follow.
TVGO: Ouch! Burn. So tell us more about Rose and Kyle's budding love.
Smith: At first, Rose's character got curious about my character because she didn't know if I'm a demon or an actual agent. Once she found out I'm good, we started working closely together against the big bad threat of this season, the Avatars. We've started to get too close, especially in the '30s noir episode we did in black-and-white last week.
TVGO: Yeah, I wondered about that. Was life actually black-and-white in the '30s?
Smith: Yeah, right. Rose and I got sucked into this magical book that was made by a couple of witches. It was a lot of fun to shoot and looks really cool. You'd think they'd run out of story lines after seven years of this crazy stuff, but they don't!
TVGO: UPN didn't pick up the pilot for Silverlake, another Aaron Spelling series you were to star in.
Smith: We shot it back in the spring. That's a bummer because we thought it would be picked up. It's set in the Silverlake neighborhood of L.A. Dead people came to me for guidance or advice to solve crimes and mysteries or save a loved one who's still alive.
TVGO: Hmm... Sounds suspiciously similar to Fox's Tru Calling.
Smith: It's similar to Tru Calling, but we made ours less serious. (Chuckles) I did say "I see dead people" at one point, but I didn't steal Haley Joel Osment's [style of] line reading.
11.11.04 - Zap2It.com: Kerr Smith is Happy to Be a Grownup on 'Charmed' - After playing a gay teen on The WB's "Dawson's Creek," Kerr Smith is happy to be playing an adult -- and having a different sort of on-screen romance....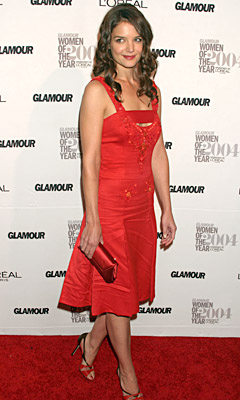 11.9.04 - TV Guide Online: Glamour girl: Katie Holmes looks red-hot in a sizzling frock at the 15th annual Glamour Women of the Year Awards.
11.1.04 - Maggie Friedman is writing a new pilot for the WB. The show is a drama that, when it first made the rounds in 2002, was called Spy Girl (Warner Bros. TV/25C Prods). The project is based on Amy Grey's "Spygirl: True Adventures from My Life as a Private Eye" about a 20-something detective.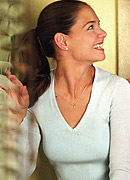 7.7.04 - From TV Guide Online: How Katie Holmes Keeps It Real
by Angel Cohn
For six seasons on Dawson's Creek, Katie Holmes played doe-eyed dreamer Joey Potter — and became America's sweetheart in the process. Since the teen sudser's swan song last year, the 25-year-old brunet's been focused on the big screen.
She's had her hits and misses: There's the critically acclaimed Pieces of April, the recently bombed First Daughter and the upcoming Batman Begins. Still, despite all the fame and fanfare, she considers herself that "girl next door" we all knew and loved on the Creek.
"I've been in North Carolina for six years, so I was pretty far removed from any spotlights," Holmes says. "Also, I have a very influential father who constantly reminds me how much more I could do for the world and it puts it all in perspective. Whenever he thinks that perhaps I might be getting a little excited about myself, he pulls me back. So I go about my day and don't worry."
The down-to-earth Holmes also says her Catholic education was nothing like WB's glamorous take on high school. "[My life] was one big, embarrassing moment," she laughs. "I had a really good time. In an all-girls school, the more kind of gross you can be, the cooler you are.
"If your boxers are hanging out," she says, "and your skirt is way up and just dirty, you just don't care. My friends and I are still really close, and whenever we get together on the holidays, we slip right back and talk for hours. It is a pretty great bond."
Holmes sometimes wonders if eschewing college for an acting career was the right move. "I have asked my good friends, who went off to college when I went to do Dawson's Creek, 'Did I miss a lot? I feel like I'm socially a little bit behind.' They are like, 'It wasn't your path. Get over it. You didn't miss much. I got drunk for four years.'
"They are very frank," she smirks. "In some ways, I think [college] would have been nice, but I'm thankful for the way my life turned out, so I can't really say that I regret anything. I know if I do go back [to school], it will be completely different for me, but that's okay."
8.31.04 - Kerr Smith will be joining the cast of Charmed as a love interest for Paige, the character played by Rose McGowan. Smith's character will be a homeland-security agent who believes in the supernature, a sort of Fox Mulder from The X-Files. Smith will debut on the show in October.
8.19.04 - Kristin at E!Online reports that Katie Holmes was seen at the House of Blues with her "Batman Begins" co-start Christian Bale. They were there for a country concert, and Bale tried to get her to two-step, but apparently she's not so much the rhythm queen.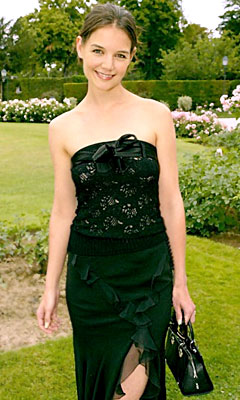 7.7.04 - From TV Guide Online: Looking stylish during Paris' fashion week was just a walk in the park for actress Katie Holmes. -->
4.15.04 - Kristin at E!Online reports that Pacey's Back! Glamour held its celeb-studded "Don't" party this week at the hottest Hollywood hot spot with hot sauce--Del Taco. Our too-faboo Hollywood Party Girl, Lara Morgenson, will bring you more details next week, but for now, I must share with you this case of heartthrob heartburn: I saw Pacey Whitter. (Or Josh Jackson, if you really must call him that.)
First things first: He was there with Eve. You remember, Brittany Daniel, who played Dawson's love interest for a few episodes. I hear the former Capeside flames may be rekindling some kind of romance. (And just to set the record straight, Jackson tells me the report in Us Weekly that he's expecting a baby with his former girlfriend is "not true.")
The party marked Jackson's first appearance at such an Industry party in years; perhaps he's stepping out now because he has an indie flick coming out. Or quite possibly because he's no longer swarmed by shrieking girls. "When I get recognized now," he says, "it's more like, 'Didn't I go to high school with you?' And I think, 'In a way, yes.'"
J.J. tells me he has kept in touch with all of his castmates: "After six years, we're like family." But he advises against holding our breath for a reunion special. "I think the final episode accomplished that," he says. "It was a finale and a reunion all at the same time. However, in 20 years, if I'm bitter and unemployed and have completely lost any sense of self worth? Maybe. It'd be like, 'Who stole my dentures?' So, it might not be so sexy."
3.31.04 - Kerr Smith has taken the lead in UPN's drama presentation "Silver Lake," according to The Hollywood Reporter. He'll play a record-store owner in the L.A. hipster enclave of the title who can communicate with the dead. Hedy Burress ("First Monday," "Valentine") will play his twin sister and Sandra Bernhard a psychic.
3.8.04 - Zap2It.com: Williams Joins Gay Cowboy Romance - Michelle Williams is climbing into the saddle with Heath Ledger and Jake Gyllenhaal. The 23-year-old actress will star as the wife to Ledger's character in "Brokeback Mountain," a drama set against the backdrop of Wyoming and Texas, according to The Hollywood Reporter....
12.30.03 - Katie Holmes just got engaged to her boyfriend of five years, Chris Klein. No word yet on when the nuptials will take place.
12.10.03 - TV Guide Online reports that Katie Holmes is in talks to play the female lead in Warner Bros.' new Batman flick, which stars Christian Bale as the Caped Crusader. Holmes would play Batman's love interest, Rachel.
12.1.03 - Zap2It.com: Jackson Glows in 'Aurora Borealis' - Forget the creek, Joshua Jackson has his sights on the Northern Lights. The "Dawson's Creek" actor will star in "Aurora Borealis" as a troubled young man who must come to terms with the premature death of his father....

Zooey Deschanel and Katie Holmes
by Donato Sardella/WireImage.com
10.24.03 - From TV Guide Online: Ones to Watch: Zooey Deschanel and Katie Holmes got chummy at the Christian Dior launch of a new watch in Beverly Hills.

10.16.03 - E!Online Fashion Police: Awww Inspiring - Quick, sound the too cute alert! Could Katie Holmes and steady squeeze Chris Klein look any more adorable, holding hands at the Pieces of April premiere in New York? She's blooming elegant in a red, black and white floral-print Oscar de la Renta silk gown with a smooth updo. Fresh-faced Klein looks every square inch the leading man in a three-button slim-cut slate Hugo Boss suit with a khaki shirt and striped tie. And check out the duo's matching dimples! Jeez, these kids are so wholesome we're getting a major sugar rush. Somebody pass the insulin!

10.8.03 - Ted Casablanca at E!Online reports that Katie Holmes and Chris Klein were spotted doing the sweaty-palm date thang at the AMC Century City Theaters. Lost in Translation, 2:15 p.m. Looking snuggly as they watched the preview for K.H.'s upcoming flick Pieces of April, the cozy duo was playing it low-key. Katie was quietly luscious in low-rise jeans and an olive tank top, while cool Chris was clad in jeans and a gray tee. Afterward, the darlings got all kissy-face on the escalator down to the parking garage. Think her Dawson's Creek dude would've been jealous? Doubt it, since...

Joshua Jackson was busy stuffing his face full of pancakes. The Griddle Café Sunset and Fairfax. Chattering nonstop while shoveling in the breakfast grub, Mr. J. was looking nasty, though totally humpable. Sporting his best fresh-from-the-sack look with puffy, bed-head hair, rumpled jeans and a short-sleeved striped shirt, J-squared was joined by guy 'n' gal pals.

10.6.03 - TV Guide Online: Katie Holmes Fashion Scare!

For six seasons on Dawson's Creek, Katie Holmes was America's sweetheart, the WB's dream girl next door. Well, forget Miss Joey Potter, kids. As the title character in Pieces of April — in limited release Oct. 17 — she's more like the foul-tempered skank next door!

April's talented cast of kooks includes Patricia Clarkson, Sean Hayes and Oliver Platt. The sitch: A Thanksgiving Day in the life of April, a rebellious twentysomething who's trying to cook dinner for her estranged family. For the role, Holmes streaked her brunette locks with hot pink, painted her nails black and wore funky punk clothes and Goth jewelry. Yuck! Has April seen too many Pink videos or what?

"April is not what she seems," Holmes tells TV Guide Online. "Her whole look is very strong in its message. It gives off an 'I don't give a s---' attitude, but really she can be very caring. I give a lot of credit to wardrobe, makeup and hair. I have friends who are very cool and edgy and can get away with a look like that. But I put that stuff on, and I feel like a dork.

"I don't think I could pull it off in real life," she laughs. "Katie is all about jeans and a T-shirt and whatever's clean, really."

How's life after the Creek for Holmes, who's now focused on a film career? "I'm excited about it," the 24-year-old says. "It's kind of a reality check when you're used to doing something for six years, and then suddenly, it's over. You're back to what feels like square one. You have to go out and keep auditioning and you don't have that safety net [of having a TV job] to land in.

"I feel a definite void in my life, because we are all so close," she says, thinking of her Creek castmates. "I think this whole first year after the show will be filled with odd feelings because it's a huge change. At the same time, it's really thrilling and freeing. It's nice to be starting a new chapter."

10.6.03 - Don't miss Katie Holmes in the new movie "Pieces of April," in theaters October 17th.

9.19.03 - E!Online Out & About: Katie Holmes and Chris Klein prove that the couples who play together, stay together.

9.15.03 - From TV Guide Online: Remember Meredith Monroe from Dawson's Creek? She spent two-and-a-half years on the teen soap as neurotic good girl Andie McPhee. This year, ABC sent TV journalists the pilot for its new fall sitcom Married to the Kellys, starring Monroe as Breckin Meyer's new bride, who drags her New Yorker hubby home to Kansas to live near her tight-knit family. Later, ABC gave her role to Kiele Sanchez from That Was Then, a sitcom it axed last year. But why?

"Yes, I got replaced," Monroe tells TV Guide Online. "I don't know why. We heard so many different things. Ultimately, they said they weren't 100 percent sure that Breckin and I were the right match. One of the things I heard was that I seemed more like the New Yorker and he seemed more like the Midwesterner, and it's supposed to be the reverse. I'm from the Midwest, so who knows?

"But I heard lots of other people [at ABC and 20th Century Fox] loved us together," the 25-year-old adds. "Who knows what the real story is. Tom Hertz, who's the executive producer, called me personally and said, 'We loved you. We would've loved to make it work. Hopefully, we'll work together somewhere down the road.' So I think, 'Great! Start writing me my own series!'

"I enjoyed trying my first sitcom," she says cheerily. "It was all good. Maybe it just wasn't meant to be."

Monroe can currently be seen in The Year That Trembled, an indie film in limited release. Fred Willard and SeaQuest DSV's Jonathan Brandis co-star in this fictional tale, based on the 1970 tragedy at Kent State University, where student activists were killed during a Vietnam War protest. "I didn't know much about it," the actress admits. "So I went to the bookstore and got The Vietnam War for Dummies. Yeah, that's a real book!"

9.3.03 - From TV Guide Online: Warner Bros. and director Christopher Nolan are thisclose to settling on an actor to take over the role of the Caped Crusader in the next Batman film. According to The Hollywood Reporter, those vying for the coveted role include Jake Gyllenhaal, Christian Bale and Joshua Jackson. Shooting gets underway in February.

8.14.03 - Ted at E!Online reports that Katie Holmes was spotted running on the treadmill early on a school-day morn. Sports Club/LA on Sepulveda Boulevard. Going at it sans trainer (so very non-Hollywood, n'est-ce pas?), K.H. was clad in gray sweats for her 45-minute routine.

8.11.03 - Kristin at E!Online reports that James Van Der Beek could be headed back to the big screen. He's in talks to star in "Standing Still," described as a "Big Chill" for Gen Y, which also stars Michael Rapaport and Estella Warren.

7.23.03 - Meredith Monroe will no longer be in the new show, Back to Kansas. Her role has been recast with Kiele Sanchez.

7.16.03 - From E!Online: Joshua Jackson, Dennis Hopper and Leonor Varela find themselves running from the bulls in the indie feature Americano. Set in Pamplona, Spain, the drama centers on a traveling college grad (Jackson) whose encounters with friends and locals force him to rethink his future.

7.11.03 - From TV Guide Online: Looks like the WB is scared to debut Rachael Leigh Cook's new drama Fearless this fall. The Frog network has opted for a mid-season premiere instead, citing production delays. In its place, the WB will air One Tree Hill, starring Dawson's Creek alum Chad Michael Murray and newcomer James Lafferty as teens who find out they share the same father.

7.7.03 - E!Online: James Van Der Beek Hitched - Joey Potter, who needs ya? James Van Der Beek may not have gotten the girl on Dawson's Creek but his real-life wedding to actress Heather McComb proves he's no slouch in the romance department....

6.18.03 - Dawson's Creek has received four Teen Choice Award nominations. Katie Holmes has been nomintated for Best Actress in a Drama Series, Joshua Jackson has been nominated for Best Actor in a Drama Series, Mika Boorem was nominated for Best Sidekick, and Dawson's Creek itself was nominated for Best Drama Series. The awards are scheduled to air Wednesday, Aug. 6 on FOX. Teens can vote on several categories at TeenPeople.com (a subscription is required).

6.2.03 - TV Guide gives CHEERS to Dawson's Creek's going-away party. The series finale's epilogue, set five years after the main action, was a satisfying reminder of why we once enjoyed this show. Sharp, surprising and a little sappy, it was everything a teen soap should be. And Joey ended up with Pacey, not Dawson. Perfect.

5.19.03 - Busy Philipps attended the premiere of Jim Carrey's new movie, "Bruce Almighty."

5.16.03 - Zap2It.com: 'Dawson's Creek' Goes Out on High Note - When "Dawson's Creek" premiered in early 1998, it set ratngs records for the then-fledgling WB, particularly among teen viewers.m Those teenagers are a little older now, but a lot of them tuned in to see the series say goodbye....

5.15.03 - Bianca Kajlich's (Natasha) new comedy, Rock Me Baby, has been picked up by UPN for the fall season. It will air on Tuesdays at 9pm ET.

5.16.03 - From TV Guide Online: Wednesday's Dawson's Creek finale -- in which Joey chose Pacey over Dawson -- was one for the history books. The two-hour swan song was seen by more than 7 million viewers and notched record ratings for the Frog network among adults 18-34 and women 18-34.

5.15.03 - Jensen Ackles's (CJ) new drama, Still Life, has been picked up as a mid-season show for next season by FOX.

5.13.03 - Chad Michael Murray's (Charlie) new drama, One Tree Hill, has been picked up as a mid-season show for next season by the WB.

5.13.03 - Bianca Lawson's (Nikki Green) new drama, Fearless, has been picked up for the fall season by the WB, and will air on Tuesdays at 9pm ET.

5.13.03 - Meredith Monroe's (Andi) new comedy, Back to Kansas, has been picked up for the fall season by ABC, and will air on Fridays at 8:30pm ET.

5.12.03 - Zap2It.com: Pacey Reflects on 'Dawson's Creek' - Where will the gang from "Dawson's Creek" be five years from now? You don't have to wait for a reunion movie to find out. The answer is built into The WB drama's two-hour finale, co-written by series creator Kevin Williamson and airing Wednesday, May 14 at 8 p.m. ET. The young characters from Capeside, Mass., have done a lot of growing up over the show's six seasons, yet some things have remained the same -- especially the complexities of Joey Potter's (Katie Holmes) relationships with two of her childhood friends, Dawson Leery and Pacey Witter (James Van Der Beek, Joshua Jackson)....

5.12.03 - Zap2It.com: TV Gal Doesn't Want to Wait - "Dawson's Creek" is drawing to a close, so TV Gal takes time out of her busy schedule to list her Top 10 moments, and even includes a couple that don't involve Pacey....

5.10.03 - Don't miss the great article on the finale of Dawson's Creek in the May 10th issue of TV Guide, along with interviews with the original cast members.

5.9.03 - Kristin at E!Online interviews Joshua Jackson & Michelle Williams and talks about how Dawson's Creek helped make her the TV-obsessed couch potato that she is today.

5.9.03 - TV Guide Online "Caught in the Act" - James at 26: Dawson's Creek star James Van Der Beek has come along way from pretending he's 15. The actor escorted his fiancée to the Signature Theatre Company tribute to playright Edward Albee.

5.8.03 - Don't miss the Dawson's Creek auction at eBay where you can bid on items from the show, including clothing worn by the characters and props from the set. Running from now through May 14th.

5.2.03 - Katie Holmes has been named one of the 25 hottest stars under 25 in Teen People.

4.24.03 - Katie Holmes has chosen her first post-Dawson's Creek project. The actress has signed on to star in the Forest Whitaker-directed romantic comedy First Daughter. She'll play the daughter of the U.S. president who goes to college and falls for a dashing graduate student.

4.16.03 - Joshua Jackson, who was arrested on Nov. 9 for being drunk and disruptive at a Carolina Hurricanes hockey game, was placed in an alcohol education program on Wednesday. As part of the deal, the 24-year-old actor must attend 15 hours of alcohol and substance abuse education and complete 24 hours of community service.

4.1.03 - TV Guide Online "Caught in the Act" - Call of the wild: Dawson's Creek star Katie Holmes was overjoyed to meet her fans at the New York premiere of her new film Phone Booth.

3.24.03 - TV Guide Online: Dawson's Creek Finale Scoop! - The end is near for those oh-so-very self-aware Dawson's Creek kids. The drama caps its six-year run on the WB with a two-hour time-tripping swan song on May 14 written by series creator Kevin Williamson. In his first interview since paddling back to Creek, Williamson, who left the show at the end of Season One to focus on other projects, gives TV Guide Online the lowdown on why he decided to return, whether Joey (Katie Holmes) will finally choose either Dawson (James Van Der Beek) or Pacey (Joshua Jackson) and what Creek plot he thinks his successors botched....

3.19.03 - TBS has acquired the off-net cable rights to Dawson's Creek, distributed by Sony Pictures Television. The fun begins on March 31 when TBS plans to kick off its newest property with daily 4-hour marathons which will continue for six full weeks, right up to the series finale airing on the WB on May 14. TBS deal reportedly was for $200,000/ep for the 128 episodes. After the initial six weeks, Dawson's will be scheduled to air weekdays at 9a and 10a, replacing Matlock.

3.10.03 - Zap2It.com: WB Returns to Source of 'Dawson's Creek' - As the end of "Dawson's Creek" grows near, The WB has decided to return to its beginnings. The network is planning to re-air the 1998 pilot episode of the series, which helped establish The WB as a destination for young viewers. The episode is scheduled for 8 p.m. ET Wednesday, March 19....

2.26.03 - Happy Birthday to James Van Der Beek who will be 26 on Saturday, March 8th.

2.24.03 - James Van Der Beek has been cast to star in a film titled Still Standing from independent First Addiction Films. The story is about a heartthrob actor, who is also an alcoholic, who meets up with an old group of college buddies at the wedding of a friend. Production begins next month.

2.20.03 - Zap2It.com: Jackson Steps Behind 'Dawson's Creek' Camera - "Dawson's Creek" star Joshua Jackson will make his directorial debut when he helms an episode of the series scheduled for later this season. The episode, called "The Eddie," is scheduled for Wednesday, April 16...

2.20.03 - Chad Michael Murray (Charlie) will star in a WB pilot called Ravens.

2.18.03 - Zap2It.com: Williamson Returns to 'Dawson's Creek' for Finale - "Dawson's Creek" creator Kevin Williamson is coming back to Capeside one last time. Williamson, who left "Dawson's Creek" in 1999, will co-write the two-hour series finale that's scheduled for May 14. He agreed to return after pleas from executives from The WB and members of the show's cast, including Katie Holmes and James Van Der Beek. "I'm thrilled the family has asked me to take part in its final farewell," Williamson says. He'll take time out from working on the feature film "Cursed" to write the finale with Maggie Friedman....

2.3.03 - The two-hour series finale of Dawson's Creek will air on May 14th.

1.3.03 - Wanda at E!Online says that Dawson's Creek is "Done. Over. I defy you to find someone who thinks otherwise! Chances of Making It to Next Season: 0% (Barring an act of God.)

11.11.02 - Zap2It.com: 'Dawson's Creek' Star Arrested after Hockey-Game Fight - The old joke about going to a fight and having a hockey game break out had a ring of truth to it for Joshua Jackson of "Dawson's Creek" Saturday. The actor spent a little time in jail over the weekend after being arrested at a hockey game in Raleigh, N.C.

Jackson, who plays Pacey on The WB's series, was charged with assaulting a security guard during a Carolina Hurricanes game Saturday night (Nov. 9). Terry Dean Long, a member of the show's crew, was also arrested, according to the Raleigh News and Observer.

Jackson declined comment to the paper.

According to police, Jackson, 24, was drunk during the game between the Hurricanes and the Pittsburgh Penguins and assaulted security guard Drew Grissom. Jackson's arrest warrant alleges he grabbed Grissom around the neck and hit him. A test conducted at the jail shows Jackson's blood-alcohol level was .14.

Long, 38, told a magistrate that he joined the fight after seeing Jackson get involved. Long is charged with public intoxication, disturbing the peace and possession of marijuana.

Both men posted $1,000 bonds and were released. Jackson is due to return to court Dec. 4 for a hearing on the case.

10.30.02 - Eddie Cahill -- best known as Jennifer Aniston's former boy toy on Friends and for nearly killing Keri Russell on Felicity -- will guest star on the Nov. 20 episode of Dawson's Creek. For more info on his role, see the previews page.

10.16.02 - TV Guide Online: Meet Katie Holmes's Biggest Fan - Hmm... The stressed-out, overachieving college senior Katie Holmes plays in Abandon just happens to be named Katie, too. Coincidence? Nope! The film's writer-director, Stephen Gaghanb an Oscar-winner for his Traffic screenplayb is a die-hard fan....

10.16.02 - Zap2It.com: 'Dawson' Gets to Direct - Dawson Leery is going to realize his dream, as James Van Der Beek sets out to direct his fellow cast members on "Dawson's Creek" beginning next week. The 25-year-old star who plays an aspiring filmmaker on The WB's teen drama "Dawson's Creek" says the confidence he got while watching Roger Avary, the director of his new movie "The Rules of Attraction," will help him direct an episode of the show....

10.15.02 - TV Guide Online: Undeclared Grad Stalks Creek Coed! - Look out, Katie Holmes! As the missing college boy in Abandonb opening Fridayb Charlie Hunnam may or may not be stalking the Dawson's Creek star. Either way, he sure has his share of disturbing psychotic outbursts! His evil side is new to those who've only seen Hunnam as the suave theater major in Undeclared or the sexually adventurous gay teen in the U.K. version of Queer As Folk. The blond Brit tells TV Guide Online that his inspiration for madness came from an unlikely source....

10.14.02 - A transcript of Busy Philipps's live chat with Wanda at E!Online from Monday, October 14th.

10.14.02 - Katie Holmes was #38 on TV Guide's list of the 50 Sexiest Stars of All Time. She came in through the bedroom window. When willowy tomboy Joey Potter paid an impromptu visit to the chamber of Dawson Leery (James Van Der Beek), Katie Holmes tantalized male viewers of WB's Dawson's Creek (1998-present). With her adorably crooked smile, Holmes looks like someone you could actually know. Almost.

10.11.02 - Don't miss the article on James Van Der Beek starting on page 42 of the October 11th issue of Entertainment Weekly entitled "Dawson's Creep."

10.9.02 - TV Guide Online: James Van Der Beek: The Anti-Dawson! - Is this really Dawson's Creek's last season? The show's two-hour premiere, in which Dawson and Joey finally made love, helped the WB win last Wednesday night among adults 18-34. Since James Van Der Beek makes no secret of his desire to bid Capeside farewell, we've gotta ask: Does he fear popular demand will compel him to play Dawson for a seventh year?...

10.9.02 - Katie Holmes will be on Live with Regis and Kelly on Thursday, October 17th.

10.2.02 - Zap2It.com: Spence Reflects on 'Dawson's' Gay Role - Except for the hot weather, Canadian actor Sebastian Spence enjoyed his forays down to Wilmington, N.C., to film five episodes of The WB's"Dawson's Creek," beginning with the Wednesday, Oct. 2 season premiere. He plays Professor Matt Freeman, rumored to be the new love interest of student Jack....

10.2.02 - TV Guide Online: Katie Holmes - I'm not going to post much of this article here, 'cause it's full of spoilers. But read it if you want.

9.9.02 - TV Guide Online: Dawson's Creek Star Gets Busy - When Dawson's Creek kicks off its sixth, and likely final, season, viewers will see a new face gracing the opening credits. Freaks and Geeks alum Busy Philipps. And not to be vain, but the actress, who joined the WB sudser last season as Pacey's new flame Audrey, admits she's relishing the added visibility....

8.6.02 - TV Guide Online: Kelly isn't the only Osbourne offspring going Hollywood. Her little bro, Jack, will guest star on the two-hour season premiere of Dawson's Creek, airing Oct. 2 on the WB, TV Guide Online has learned. In other Creek news, Oliver Hudson (My Guide to Becoming a Rock Star) and Jensen Ackles (Dark Angel) are joining the cast.

7.24.02 - The season premiere of Dawson's Creek will air October 2nd.

6.24.02 - Michelle Williams will be on The Late Show with David Letterman the night of Thursday, June 27th.

5.14.02 - The WB announced their fall schedule today, and Dawson's Creek will stay in its Wednesday, 8pm ET time slot next season.

5.6.02 - While WB executives head into four days of screenings this week to determine what's in and what's out among the new crop of pilots, one decision has already been made. Everwood from Greg Berlanti and Mickey Liddell received its pick up orders last Friday. Everwood starring Treat Williams is about a recently widowed big city surgeon who takes his two children and heads for the small town of Everwood, Colorado. The rest of the WB fall schedule will be announced at their upfront presentation on May 14th.

3.29.02 - Dawson's Creek will air its 100th episode on Wednesday, April 17th. For more details on the landmark episode, see the previews page.

3.7.02 - TV Guide Online: Creek Hunk in "Mourning" - Dawson's Creek beauty Katie Holmes may not be in any hurry for the past-its-prime WB drama to come to an end, but her co-star, Joshua Jackson, certainly is....

2.27.02 - Look for Sherilyn Fenn, best known for her role in the David Lynch miniseries "Twin Peaks," to guest star in the last three episodes of the season. For more info on her role, see the previews page.

2.22.02 - TV Guide Online: Holmes's Time Up at Creek? - Now that Keri Russell and the gang from Felicity are packing it in at the end of the season, critics are hoping those angst-ridden teens on Dawson's Creek will take the hint and call it a day as well....

2.20.02 - TV Guide Online "Caught in the Act" - He was a teenage teenager: James Van Der Beek celebrates 100 drama-filled episodes of Dawson's Creek with fiance Heather McComb at the Museum of Television and Radio in New York City.

2.20.02 - James Van Der Beek recently proposed to his girlfriend of two years, actress Heather McComb (Party of Five) and she said yes, according to E! News Daily. No wedding date has yet been set. In addition, Kerr Smith also proposed to his girlfriend, actress Harmoni Everett ("Josie and the Pussycats").

2.13.02 - Wanda at E!Online reports that Dawson's Creek has been signed for a sixth season.

1.30.02 - TV Guide Online: Creek Creator: Gone to Glory - Although many critics think the WB should send Dawson's Creek to a watery grave, creator Kevin Williamson isn't quite so fatalistic....

1.23.02 - TV Guide Online: Michael Pitt: Bully for You! - After being cast in Larry Clark's Bully, the true story of a group of high-school burnouts who conspire to murder the title jerk, Michael Pitt eagerly set about doing his homework....

12.11.01 - Dawson's Creek gets a thumbs up from the December 11th issue of Soap Opera Digest. "Death Becomes Him" Losing a parent is a painful experience, and that's certainly been the case for Dawson Leery. When his father died in a car accident, Dawson was thrown on an emotional roller coaster – one that he's still riding.

The young man's grief has unfolded in believable stages. First, there was blame. Dawson revealed his intention to drop out of USC and move to Boston, but a disappointed Mitch didn't accept the decision. When Mitch was killed shortly after, Dawson believed he caused the crash. He shut out loved ones and became the man of the house without showing an ounce of emotion. Why? A guilt-ridden Dawson didn't think he deserved to mourn. A breakdown eventually occurred when he discovered that his father was proud of him before passing away. Finally, Dawson was able to give in to his feelings and cry.

The death of Mitch has charted Dawson's course for the season and given the character, who had far too little to do last year, a meaty storyline. He has many decision to make (was leaving film school the right move?) and must attempt to find himself. Right now, Dawson is confused, directionless and despondent; a return to normalcy seems impossible. But grief, like growing up, is a process that must be worked through. It will be intriguing to watch Dawson try to do both things at the same time.

12.4.01 - Wanda at E!Online reports that Gilmore Girls is working to get Chad Michael Murray (Tristin) back for one or two more episodes later in the season, but it really depends on what goes down with yet another WB show craving his God-like goldilocks. The upcoming teen Tarzan series will most likely name Chad as the lead swinger--he's in final negotiations as we speak.

12.1.01 - Wanda's latest column at E!Online reports on how this season of Dawson's Creek has been going downhill.

11.21.01 - Don't miss the great article on Lourdes Benedicto on page 60 of the November 27th issue of Soap Opera Digest.

11.20.01 - TV Guide Online: Dawson's Hunk: "Me Tarzan?" - a bit on Chad Michael Murray

10.9.01 - TV Guide Online: Creek Star Becomes a Legend - When recent high-school grad Pacey Witter heads back to Dawson's Creek this season, he'd better take a paddle, because his big brother might not be around to bail him out of trouble. Seems Deputy Doug's portrayer, Dylan Neal, may soon have bigger fish to fry...

9.15.01 - Don't miss James Van Der Beek in upcoming movie, "The Rules of Attraction."

8.20.01 - E!Online: Katie Holmes' Stalker Problem - It's one thing to love Dawson's Creek. But it's an entirely different thing to call Katie Holmes's father and claim you're engaged to her...

8.10.01 - Katie Holmes and Chris Klein are featured in the "Young Hollywood in Love" article in the August 11 issue of TV Guide.

5.23.01 - Writer-producer Tom Kapinos has been promoted from supervising producer to an executive producer after signing a two-year, seven-figure deal with Columbia TriStar Television, according to The Hollywood Reporter. Kapinos will join executive producers Paul Stupin and Greg Prange in the show's upcoming fifth season. Kapinos succeeds Greg Berlanti, who will serve as a consultant on the show and develop new projects.

5.11.01 - The Family Research Council called the May 2nd prom episode of Dawson's Creek "an indoctrination tool for homosexual activists." Associate Director of Media for the Family Research Concil, Heather Cirmo, says that TV needs more 7th Heaven-like shows about loving, upstanding nuclear families, and less shows about loving, upstanding gay people. Cirmo told Newsweek that if the FRC ran TV, "We definitely wouldn't want to glorify the [gay] lifestyle. Every program that has a homosexual character in the show, he or she is often the most stable character. He or she is not promiscuous or entangled in a bad relationship most of the time. A lot of times, he or she is the most comedic person. That's kind of strange." (Note from TK: what's strange about that?)

5.8.01 - TV Guide Online: The Forsaken's Gay Subtext - Though he's straight offscreen, there's no denying that playing gay has made Kerr Smith's acting career thus far...

5.4.01 - Summer plans for the WB include a movie on either Tuesday or Wednesday night with movies borrowed from TBS. A Tuesday night movie would preempt Buffy the Vampire Slayer, which moves to UPN in the fall, and Angel. A Wednesday night movie would displace Dawson's Creek and Felicity. Whichever night the WB decides to go for a movie, it's expected to start in June.

4.23.01 - Don't miss Kerr Smith in the new movie, "Forsaken," opening soon in theaters everywhere.

4.9.01 - Dawson's Creek has received Prism Commendations for the episode "The Valentine's Day Massacre" and for the storyline "The Agony of Ecstasy" which ran through the episodes "Future Tense," "Great X-pectations" and "You Had Me at Goodbye." Prism recognizes work in which members of the entertainment community take an active role in addressing drug abuse in America. The 5th annual Prism awards, hosted by Jamie Lee Curtis and Richard Lewis, were taped April 4th. No word yet when or where they will air.

3.1.01 - Don't miss the article on Kerr Smith in this month's Out magazine.

2.20.01 - Soap Opera Digest has a bit of a problem with a recent "Dawson's Creek" scene. It's been established that: 1) Pacey, Joey and Dawson grew up together, and 2) Joey dines with Pacey's family, the Witters, every Sunday. So at Pacey's surprise birthday party, why did Mrs. Witter act like she didn't know Joey very well, calling her by the wrong name not once, but twice? (This from the woman who phoned Joey to ask for help planning the fete.) It seemed like the writers wanted to show how out of touch Mrs. Witter is with her son's life, but instead it just left us shaking our heads.

2.20.01 - Mark Matkevich (Drue) has been made a contract player on "Dawson's Creek."

2.20.01 - Look for Joshua Jackson and Katie Holmes on the cover of Soap Opera Weekly.

2.12.01 - From the February 13th issue of Soap Opera Digest: Dawson's Creek surges forward this week with a series of super-eventful February sweeps episodes (Joey and Pacey attend the class ski trip; Dawson remains at home wrestling with whether to remove his dying mentor from life support). But as the fourth season of the popular program heads toward a graduation ending, is there life after high school for Creek's citizens?

Online speculation from fans has placed some or all of the primary characters heading off to college next year in the same town (likely Boston, which is nearest to the fictional Capeside). According to Executive Producer Paul Stupin, fans aren't the only ones thinking about the future. "We've given it a lot of thought. In our minds, we know where we're going next season. But our discussions have been very general because clearly, we're still in the midst of focusing on all of the specifics and all of the twists and turns of the second half of this year."

Twists and turns that will keep fans guessing. Teases Stupin, "This is their senior year. All of them are looking not only at their present, but also at their future."

Speaking of which, so far Stupin won't confirm that Creek will even have a season five. "We haven't been officially picked up, but I'm certainly hopeful and optimistic. We're pretty confident. I mean, we're doing well this year, so knock on wood, things will be in good shape."

1.29.01 - The Gay & Lesbian Alliance Against Defamation (GLAAD) today announced the nominees for its 12th Annual GLAAD Media Awards presented by ABSOLUT VODKA. The awards will take place in four ceremonies to be held in New York City on April 16, in Los Angeles on April 28, in Washington, D.C., on May 12, and in San Francisco on June 9. "Dawson's Creek" was nominated for Outstanding Drama Series. In addition, one of the nominees for Outstanding Film - Limited Release is "The Broken Hearts Club" directed by Dawson's Creek producer Greg Berlanti and one of the nominees for Outstanding Television Movie is "If These Walls Could Talk 2" starring Michelle Williams.

1.19.01 - Look for Katie Holmes in "The Gift," currently in theaters everywhere.

1.17.01 - Joshua Jackson's guest voice appearance on "The Simpsons" will rerun on FOX on Sunday, January 28th (the night of the Super Bowl).

1.8.01 - Kevin Williamson is coming back to the WB. The writer-producer is developing "Glory Days," a one-hour drama about an author who returns to his hometown after writing a tell-all book about his former neighbors. More at Zap2It.com...

1.3.01 - TV Guide Online: Kinnear Helps Creek Cutie Bare All - Katie Holmes, who goes topless opposite Greg Kinnear in The Gift, counted on the former Talk Soup funnyman to help ease her through her first-ever nude scene...

News archives from 1999-2000